Schedule new events within your Coach Calendar
Once your Google or Microsoft Calendar has been connected, feel free to schedule a classroom visit or meeting with one or more of your coachees directly from your Calendar via the green Schedule an Event button, or by clicking on a time slot directly on your calendar.
Once your event has been created, it will automatically appear on both your TeachBoost Coach Calendar and your connected Google or Microsoft Calendar.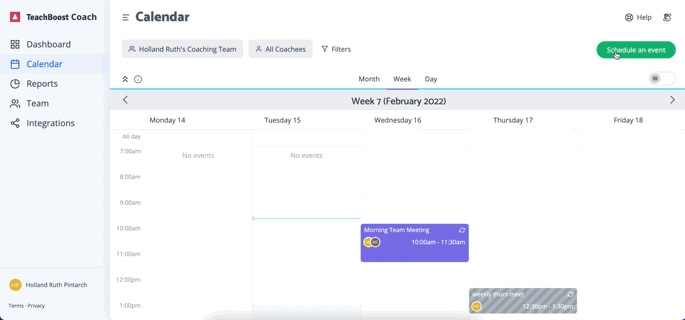 Note: Events labeled as 'Other Coaching Responsibilities' created or scheduled on TeachBoost Coach will also sync to your connected calendar.
Edit your TeachBoost Coach event
Any edits made to this event from within your TeachBoost Coach account will be applied to the event on your in-app Calendar, as well as the associated event now appearing on your Microsoft or Google calendar.
Editing or deleting this event from your Microsoft or Google calendar will not affect this event on your TeachBoost Coach calendar. Any effective updates to the event must be made from within your TeachBoost Coach account.
Was this article helpful?
0 out of 0 found this helpful