Manually import events into your Coach Calendar
Once your Google or Microsoft Calendar has been connected to your TeachBoost Coach account, you'll likely notice new events displaying throughout your TeachBoost Coach Calendar.
These will display as striped-gray events, which will either be automatically imported by TeachBoost Coach or can be manually imported whenever required.
Manually import events
Events that don't meet the criteria for automated importing, or that have not yet been automatically imported, can be manually imported at any time from your TeachBoost Coach Calendar.
Before your event is manually imported, you'll have the option of finalizing the type of activity this event will be labeled as within your TeachBoost Coach account.
Any event being manually imported can be set as a 'Meeting', 'Classroom Visit', or 'Other Coaching Responsibility'. You can use the drop-down menus for the 'Activity Type' and 'Event Type' sections to apply the appropriate labels.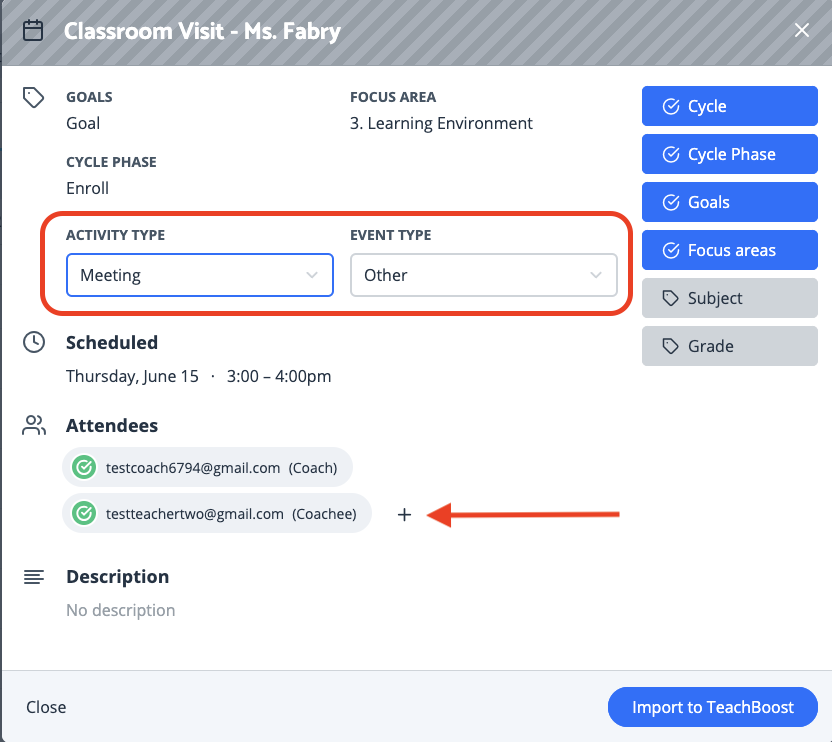 During the import process, you can add a member of your coaching team to this event before manually importing by clicking the + button in the 'Attendees' section.
Note: If your synced event includes at least one of your coachees as an attendee, it will default to a 'Meeting' type of activity in the manual import modal. Synced events that do not include any other attendees will default to import as 'Other Coaching Responsibilities'.
Once the event information has been finalized, to manually import any of these events, simply click the blue Import to TeachBoost button in the bottom right-hand corner!

Was this article helpful?
0 out of 0 found this helpful